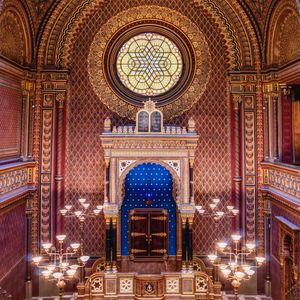 All We Are: a Kol Nidre Reflection
Preface 
"All We Are" is a poetic reflection on teshuvah, sung to the traditional melody of Kol Nidre. 
Unlike most recordings on the Mussar Blues web site, this piece is actually intended for liturgical use.  I would love to hear from you if you are thinking about using it in that capacity.
Lyrics
All we are 
All we have been 
All we have said 
All we have promised 
All we've forgotten 
All we have done 
All we earnestly intended yet we did not do. 
Help me see 
Help me be who I could be 
Help me gather up the broken parts
And recreate myself as from the start. 
Today we turn back time 
Restore harmony and rhyme 
Look a year ahead to Yom Kippur 
To see our better selves walk through this door. 
Our flaws we own 
Harmful habits hard as stone 
We repair and we atone 
Returning to ourselves and to our home. 
Soul-stains need cleaning 
Destructive deeds I've done demand redeeming
With caring and repairing. 
The road we are clearing
The boat we are steering. 
Help me know 
The direction I must grow 
Help me through 
The sea between my old ways and the new
Today the gates of change swing open
With renewed hope.
Middot  
Return  תשובה  Teshuvah
Truth  אמת  Emet
Courage  עומץ לב  Ometz Lev
Awe  יראה  Yirah
Trust  בטחון  Bitachon
Humility  ענוה  Anavah
Holiness  קדושה  Kedushah
About this Poetic Reflection
Close your eyes and listen.
The great spiritual power of Kol Nidre is a paradox. Chanting it affects us deeply, though not necessarily through the meaning of the words. Many are moved even though they do not understand its Aramaic language. Others understand, yet remain puzzled by the words. Many read an English translation and wonder why this text feels so meaningful.
I believe it is mostly the music that moves us—the melody, the emotion, and the sound of the syllables.
Aim
I set out to create a singable English companion to Kol Nidre with the following features: 
Match the meter and rhyme of Kol Nidre, clearly referring back to the sounds of the Aramaic text. As a result we can sing it to the traditional melody, tapping into its musical power. [Kimmelman, in Hoffman, All These Vows, 168–173] 
Skirt the halachic content of the Aramaic proclamation, and focus instead on the enterprise of teshuvah [return], for which chanting Kol Nidre prepares us. 
Draw the listener into the process of teshuvah, as a Yom Kippur liturgical event and as a long-term Mussar project. 
Invoke assistance from the One above—implicitly, not explicitly, to avoid derailing listeners onto theological sidetracks. Keep the focus on teshuvah and the spiritual work ahead. 
Themes, Imagery, and Voice 
The themes are integral to Yom Kippur and teshuvah: brokenness and repair; speech, action, and inaction; growth and change. 
To prepare us for the inner work of Yom Kippur, the words touch on three prerequisites for teshuvah: honesty, humility, and hope. [Louis Newman, Repentance: The Meaning and Practice of Teshuvah, 6]
This poem connects to a long tradition of spiritual poetry by referencing classic imagery of the piyutim of the Yom Kippur liturgy, such as gates, seafaring, and stubborn hardness. 
Shifting between "we" and "I" respects the Jewish emphasis on prayer in community, and also the intensely personal nature of teshuvah. 
The third stanza mentions the idea that teshuvah transcends the usual flow of time, redressing our misdeeds and undoing their spiritual consequences. [Steinsaltz, The Strife of the Spirit, 102–103] [Lawrence Kushner, in Hoffman, All These Vows, 175] 
Following the Ashkenazi version of Kol Nidre, the poem refers to the year ahead—a forward-looking message of hope—rather than to the year that has ended. 
Liturgical Use
This prayer-song is not a substitute for Kol Nidre, but a supplement. It is not a translation, but a doorway. The traditional text and melody are wise elders, while this poem is a young novice sharing an elder's musical tallit [prayer garment]. I hope that, heard together, the two texts can perhaps move us even more powerfully than either one alone.
Personal Use 
One can start along a path of teshuvah [return] at any moment. Jewish tradition offers us special invitations—the fast days of Tammuz and Tisha b'Av during the summer months, then the entire month of Elul, the ten days of teshuvah starting at Rosh Hashanah—though it's never too soon to begin. 
If we are stuck, sometimes a musical nudge can pry us loose. If we lose steam, a song can get us fired up again. If we forget our purpose, this melody and these words can remind us. 
Whenever you board your teshuvah train, let this song serve as your "All aboard!" You might listen to this conductor's call daily to keep your destination in focus. Nesi'ah tovah [a good journey].
Educational Use
Creative teachers so often find new ways to use music—discussion starter, writing prompt, art prompt, set induction. Please share your ideas.
Gratitude
I thank Rabbi David Booth and Louis Newman. Our conversation about Kol Nidre spurred me to write this singable English companion piece, and brought up many of the concepts that became grist for the poem. Louis prompted with phrases that transformed into the first stanza, and the rest of the piece sprouted from there. 
Photo by Felix Mittermeier on Unsplash