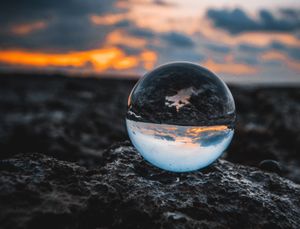 A dear friend reports one of her father's rules: If you're ever within 100 miles of a national park, just go. My adaptation of his rule: If you're a Mussar student and within one time zone of TMI Kallah, just go. I've attended the last ten kallot, often crossing two or three zones—though it's worth a trip from anywhere. 
TMI Kallah is the annual gathering of students and facilitators of The Mussar Institute—a time for learning, prayer, introspection, and reunion with Mussar students from around the world. In December 2018 Tina and I had the privilege of attending the sixteenth annual Kallah in Scottsdale, Arizona, and yes, while in the neighborhood we also carved out time to visit two national parks. 
A well-known rule at every US national park is "take nothing"—not a leaf, not a stone. In contrast, pearls of wisdom and practice are abundant at Kallah, and are never depleted, so I strive to take home all the insight and energy that I can. 
As with any experience, what I bring to Kallah influences what I get from it. 
I bring a notebook (separate from my usual evening Mussar journal). Kallah can sometimes feel like drinking from a fire hose. In my notebook I get to capture the pearls as I hear them. I get to review these treasures later, when I'm thirsty again. (I'll share just a few of this year's pearls below.) 
I bring a water bottle. It's important to stay hydrated, and I don't want to miss anything while fetching a glass of water. I get to drink more deeply from the waters of Torah and Mussar. 
I bring curiosity and eager excitement. Every year I learn many new and unexpected teachings. So I come expecting great things, without knowing what they will be. I get to feel as excited about learning and practicing Mussar as when I first began. 
I bring my full attention. In return I get uninterrupted days to focus completely on holiness. I get to learn from distinguished teachers. I get new partners with whom to unpack Mussar texts and ideas. 
I bring music. I get more music. I first learned about Mussar chanting from Rabbi Zvi Miller at my first Kallah. The effect of this gift on my practice, and on my life, has been profound. At subsequent kallot I've had the opportunity to pay it forward by sharing the gift with others. Year round I chant alone and with groups, yet at Kallah I get the largest group of experienced Mussar students to sing along with me. 
I bring my prayer practice. I get an even deeper prayer practice. 
I bring my spouse. I get the benefit of her perspective. She finds different pearls than I find, so we both learn even more than we would individually. 
I bring openness. I get a community of people attuned to Mussar—welcoming, caring, supportive, stimulating. I get to connect with fellow Mussar students—old friends and new. I get to hear and think about amazing ideas in conversation with those friends. 
I bring my whole self. I get my whole self back again—re-energized, re-centered, re-dedicated. 
Rabbi Avi Fertig quoted Rabbi Shlomo Wolbe's analogy: "If Torah teachings are like stars, then Mussar is like a telescope." The Hubble orbiting telescope can make even distant galaxies appear close enough to touch. Yet Kallah happens right here on Earth. Next year, just go. 
---
Some Pearls 
Here's a sampling of the pearls I gathered at TMI Kallah XVI. 
Alan Morinis: Self-respect is external behavior, compelled by internal holiness. 
Rabbi Avi Fertig: I want you to express your beautiful, innermost self, filtered through your character, the character of your community, and through Torah. 
Rabbi Micha Berger described the Kelm practice of "polishing the bricks." In his prayer practice session, the bricks were short phrases from the Siddur. We polish a brick by turning one phrase over and over in the mind to extract our own personal meaning from it. Over time the Siddur becomes a collection of polished gems with which to build a sanctuary of prayer in our hearts. 
Rabbi Amy Eilberg: Even the people who are the most difficult to respect are created b'tzelem elokim—in the image of God. 
Cyndee Levi on the Torah portion (Vayeshev): Through her brave actions Tamar redeems Yehudah, which prepares Yehudah to redeem all his brothers, and all the subsequent generations of Israel.
---
A version of this post also appears in the January 2019 issue of Yashar, the online newsletter of The Mussar Institute.
© Rick Dinitz, 2019  
Photo by Louis Maniquet on Unsplash