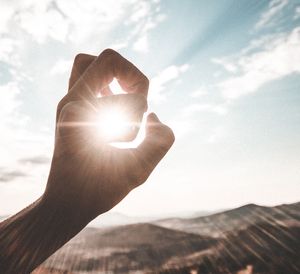 From the start of Adar, we increase joy. Mishenichnas Adar marbin b'simchah. משנכנס אדר מרבין בשמחה [Taanit 29a] 
Adar is the month of Purim—a time of light and joy. Yet sometimes we might not feel so joyous. Maybe we carry some sadness inside. Maybe the world around us stimulates fear, worry, and stress. What can we do to flip it towards joy? Be like the sun. 
We can find one inner joy and radiate it outward. Here's one way to make it real. 
First, think about something you associate with joy. It could be a person. Or an ability. Or an activity. Or an object. Or a meaningful teaching. Or a song. Or a satisfying moment. Or a sweet memory. 
When you find it, turn it over in your mind; savor the thought; bathe in the good feeling; re-experience the joy and let it warm you inside. 
Then radiate that joy outside yourself. Smile. Tell someone about it. Share it with someone. Thank someone. 
Do it again—every day this month. With each repetition you multiply that joy within yourself and out in the world. 
Be like the sun—sustaining your own warmth and warming everyone. Rekindle one inner joy, and shine it outward to benefit others around you. Hold that sunshine in your hand and then gift it to the world. 
Adar has already begun. It's time to increase joy. It's in your hands. Do it like the sun. 
© Rick Dinitz, 2019 
Exercise based on ideas from Rabbi Micha Berger and Rabbi David Nussbaum
Photo credit: Daoudi Aissa on Unsplash